efficiency
How do you build an office which meets all present and future requirements of modern business? Know all the challenges today that will be faced tomorrow?
Open 360 ° panorama
EFFICIENT, FLEXIBLE AND INDIVIDUAL.
The OBC - Olympia Business Center offers multiple possibilities of area division with separate entrances. The OBC enables companies of all sizes to benefit from the advantages of the modern office complex. The five building blocks can be used in their entirety by a major tenant, but can be flexibly adapted. Renting individual building blocks, certain floors or smaller units - everything is possible. And with separate entrances.
Open 360 ° panorama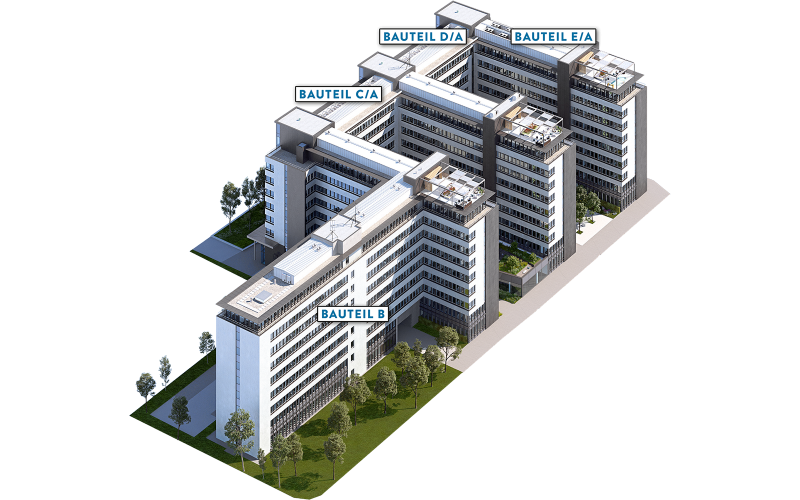 OBC: flexibility @ it´s best
The OBC offers flexibility regarding floor planing. There are four different entrances or entrances to five different parts of the building, which can be used in their entirety by a major tenant, for example - as a representative office and with clear visibility of the company. However, the premises can also be adapted extremely flexible. How can we help? Do you need one or more floors or just an office to start with? There are no limits to creativity, independence or expansion possibilities. Moving at the same address. Everything is possible. The customer is king!
OBC: THE SIGN OF GOOD TASTE
The OBC is one of the most sustainable buildings in Germany, in a very special sense: it keeps people in "good spirits" and they last a long time! The ground floor of the Olympia Business Center is a true feel-good oasis. The "Markthalle" is a great place to stroll around during lunch breaks, in between meals or after work, shop, have a cafe in the bistro or drink a non-alcoholic drink at the bar. Breakfast, brunch or dinner in the office? Gladly! Or go on a culinary trip - sometimes to bella Italia, sometimes to Asia or elsewhere? In any case! A total of five worlds of taste and gastronomic experience are on offer and these are also designed differently. A place that whets the appetite for more: lively, varied, colourful, practical and perfect for going out in the evening.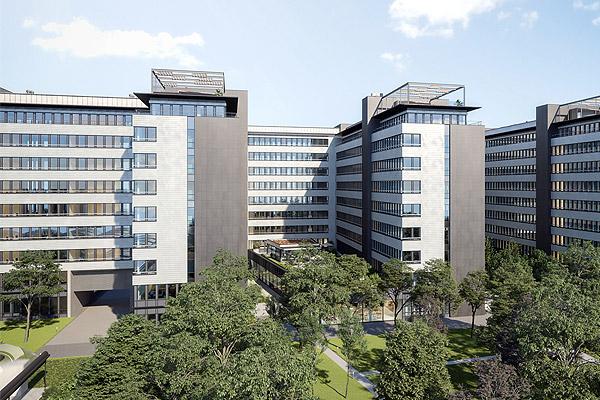 GO BIG, GO GREEN!
The comb-like building blocks protrude into the park-like inner courtyard. This not only provides a maximum of sunlight inside, but also encloses the terrace on the roof of the catering areas.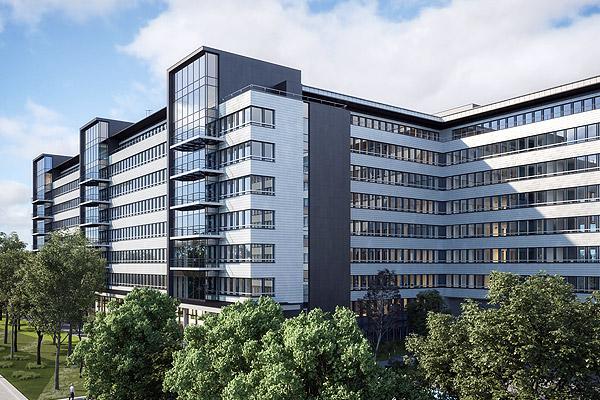 STRIKING AND MODERN!
From solitary solutions to individual building wings to storey solutions to individual offices or co-working areas. The OBC is the ideal business construction kit and guarantees expansion possibilities without changing address.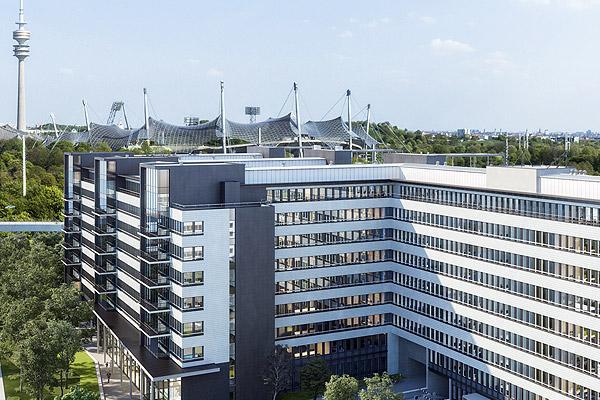 THE PERFECT FIT!
A neighbor who encourages. The Olympic Park offers perfect options for after work activities. Work-life balance at its best!